Lior Schur
Lior was born in 1983, lives and works in Tel Aviv.

Lior is a multidisciplinary artist engaged in sculpture, installation, drawing and collage.
She finished her B.ed in Art and Education at Hamidrasha School of Art, Beit-Berl in 2008 and her master's degree in expressive therapies at Lesley University, Israel, in 2013.

Her works are a mix of classical art materials as oil, acrylic, pastels and ready-made, cheap, accessible materials from our daily life such as chocolate paper, glitter, gold leaf, plastic diamonds, etc. In many cases the works are inspired by the materials themselves and from the encounter, the tension between those different "high" and "low" levels of materials. The connection of these two worlds of materials allows her to experiment with ideas, play with images and invent new sets of meanings.
By reinterpreting everyday materials in an artistic context, Lior invites the viewer to enter a fantastic territory, an alchemical world, where materials and strange, bizarre imagery melt together. Lior uses the imagery of mythological hybrid creatures, animals with extraordinary physical qualities. Her works are both dark and melancholic, but also full of humor at the same time.

Other important elements in her work are the use of objects culturally loaded such as old books and toys and ritual objects such as figurines, rugs and beads. These are used as a platform that allows the viewer to tell a personal story based on known materials detection and cultural baggage inherent to them. At the same time, they invite the viewer to reflect, meditate and find a moment of tranquility.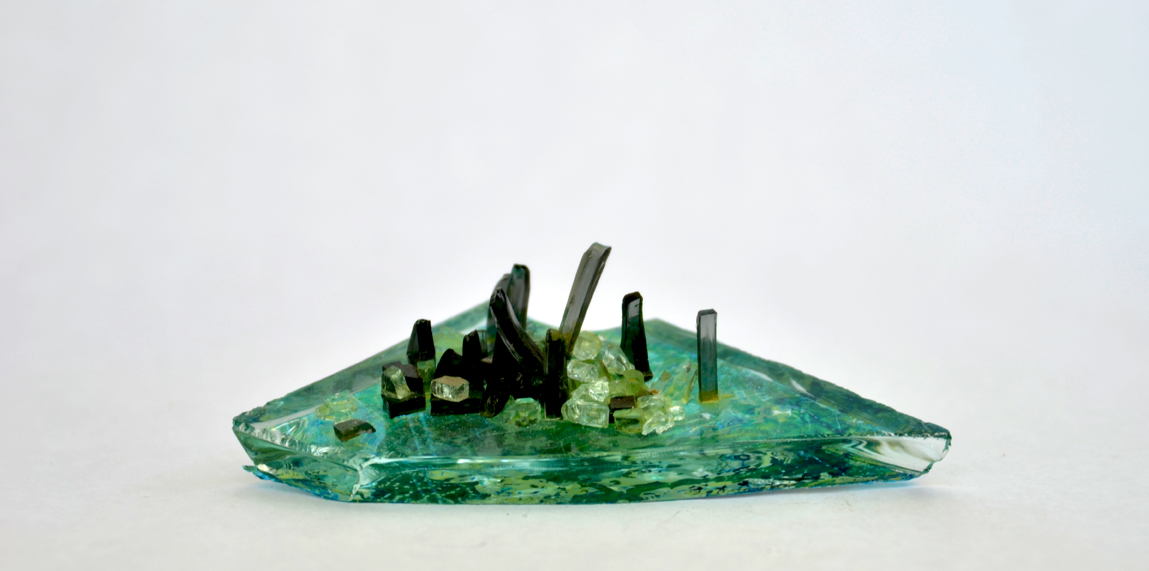 Lior Schur
Born in 1983
Member of Alfred - Cooperative Institute of Art and Culture
Works and Lives in Tel Aviv
Higher Education
2004-2008 Art and Education, Hamidrasha School of Art,Beit-Berl (B.ed), Kfar Saba.
2011-2013 Master in Expressive Therapies , Lesley University (MA), Netanya.
Solo Exhibitions
2015 - Home decor, Space shuttle, Loving art, Tel Aviv.
2014 - The Institute, Art for a lonely viewer, Alfred Gallery, Tel Aviv.
2013 - The Black Crow and the Golden Bird, Haifa Museum of Art, Haifa.
Selected Group Exhibitions
2015 - The circle, Alfred Gallery, Tel Aviv.
2012 - Employeeof the Year, Petach Tikva Museum of Art, Petach Tikva.
2010 - I Read the Text Afterwards, Alfred Gallery, Tel Aviv.
Art and Community Projects
2010-15
Life stories, founding and hosting art therapy groups with elderly people, multi services center, Kefar Shalem, Tel Aviv.
Thinking outside the box ,new learning Modalfor Elementary School Students, Petach Tikva Museum of Art.
2013
The magical Garden ,Ecology and Art, a Collaboration of the Department of environment, the Education administration and Petach Tikva Museum of Art.
2012
The Journey, a workshop with youth Hospitalized at the Educational Center Geha in Petach Tikva Museum of Art.
2011
a Summer workshop for children of Mesila-Help and information Center for African refugees in Tel Aviv, Petach Tikva Museum of Art.
a memorandum, Curating an art Exhibition with Cooperation of the Ethiopian community in Petach Tikva, Petach Tikva Museum of Art.
Scholarships and awards
2014-2015 - Art in community program, Ministry of culture, Israel.
2010-2011 - a college's scholarship, ALMA, Home for Hebrew Culture, Tel Aviv.
2005-2008 - Excellent educators program, Ministry of Education, Israel.
Press reviews and articles
21.5.2010 - I Read the Text Afterward, Hila Shkolnic-Brener, City Mouse Tel Aviv.
Publication
2013 - Alfred Catalog of activity, Alfred - Cooperative Institute of Art and Culture, Tel Aviv.