Past Imperfect Continuous
Shira Barak \ Keshet Ben Ami \ Lital Rubinstein
Curator: Ohad Zehavi
30.08.2018 - 28.09.2018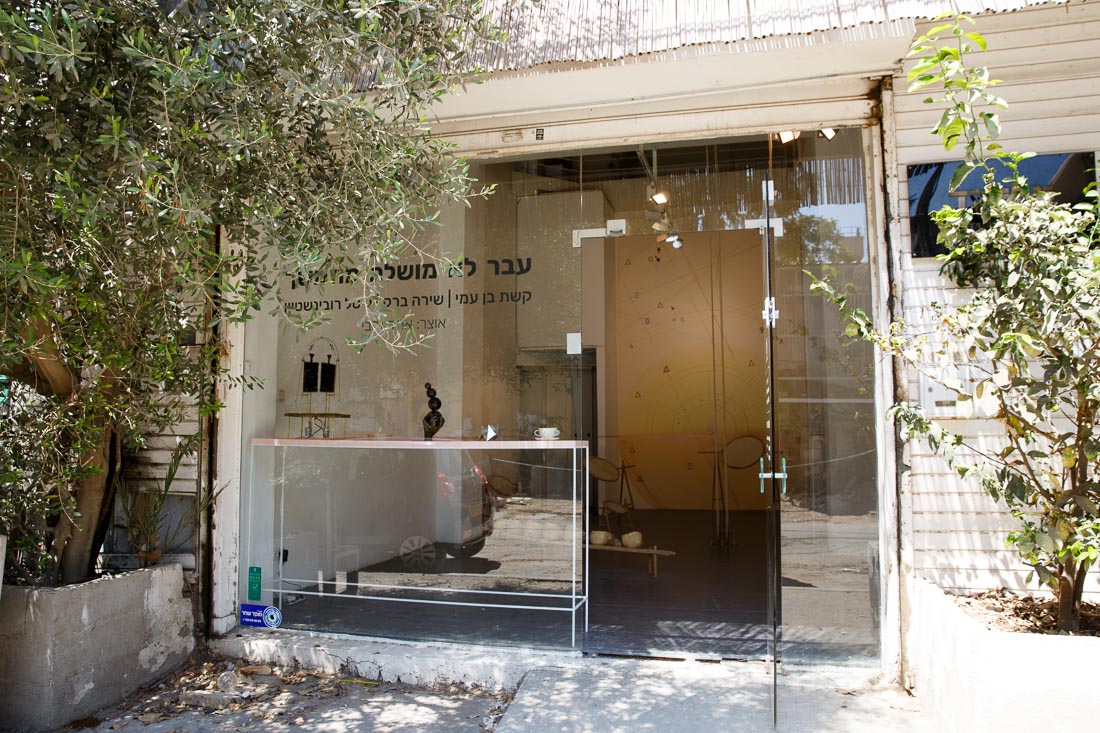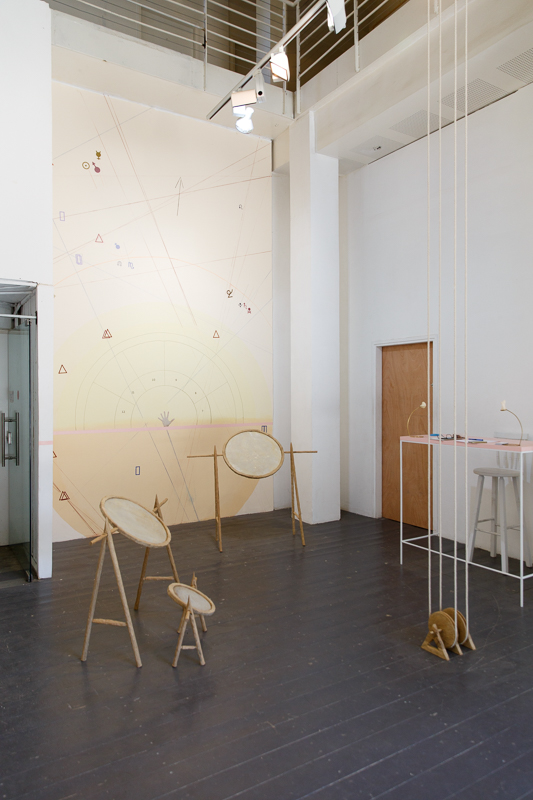 Past Imperfect Continuous
On Thursday, August 30, 2018, a joint exhibition of artists Keshet Ben Ami, Shira Barak and Lital Rubinstein, curated by Ohad Zehavi, will open under the title Past Imperfect Continuous. The exhibition combines the new works of the three artists into one integrated installation, multi-faceted and yet cohesive, created especially for Alfred Gallery. It includes sculptures of various sizes, a wall image, a video work and a sound work.
At the center of the exhibition are fateful rituals, full of vision yet inherently failing.
At the entrance of the gallery, fortune-telling devices are presented, derived from common practices of divination and from good fortune amulets, but each one of them has some defect or flaw that dispossesses them of their power. In the background, a blown-up astrological map appears as an uncharted futuristic landscape waiting beyond the horizon.
Tatami mats cover the side of the gallery, as an invitation to walk in a Zen-like ambience between dynamic sculptures, which seem to provide tranquility and focus but also create a sense of dissonance and disintegration. A video art work, which undermines the perception of space, contributes to the vertiginous loss of ground.
In the space between these works appear the remains of an enigmatic rite from the past. A set of wooden instruments bringing to mind light reflectors are laid out in the gallery space, rising gradually, drawing the gaze ever upwards. Additional scattered evidence – shells of bodies lying supine and a pair of ropes rising to the sky – suggest a ceremony with almost cosmic ambitions, which most probably could not have been achieved.
From one display to the next, one fundamental failure is brought to light: the failure of representation. With it a ritual of great vision, celebrating representation in its various guises and dominating the entire exhibition, becomes manifest: the ritual of art. An overheard conversation between the curator and the artists, and a short, haunted story written especially for the exhibition and replacing the curatorial text, highlight this ritual and disturb it for the sake of – hopefully – a rich and vibrant encounter of visitors with the various signs produced by the works on display.
Keshet Ben Ami is a multidisciplinary artist engaged in sculpture and installation. She is a graduate of Shenkar's School of Multidisciplinary Art (2016). She received the America-Israel Art Foundation Scholarship (2016), has had solo exhibitions at Gallery 4 (2017) and at Oded Shatil Liberman 8 (2018) and exhibited in the project room at Rosenfeld Gallery (2018).
Shira Barak is a multidisciplinary artist, engaged in installation, sculpture and video. She is a graduate of Shenkar's School of Multidisciplinary Art (2016).
Lital Rubinstein is a multidisciplinary artist who is engaged in installation, sculpture and drawing. She is a graduate of Shenkar's School of Multidisciplinary Art (2016) and currently studies for an M.A. in Philosophy at Tel Aviv University. She received the America-Israel Art Foundation Scholarship (2016), participated in the group exhibition "ELEPHANT AND CASTLE" (2017) in Hamburg, Germany, and in September will participate in a joint exhibition at Hanina Gallery.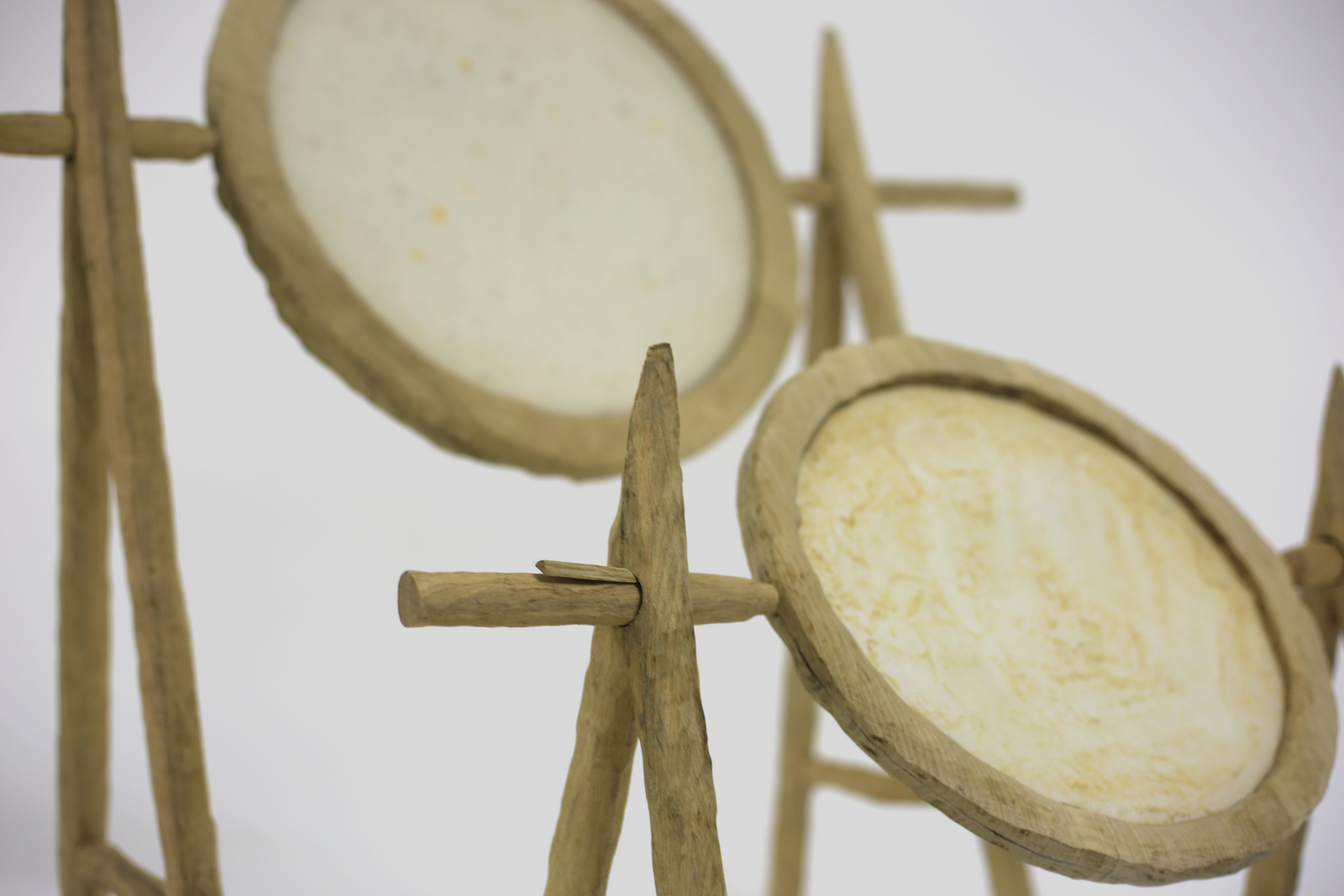 Vision and Failure – Annual Theme for 2018
Past Imperfect Continuous will be the seventh exhibition of 2018, which will consist entirely of exhibitions revolving around the theme 'Vision and Failure'. By dealing with the chosen subject, Alfred Gallery seeks to expand the field of meanings that are embedded between the words vision, success, failure, intent and improvisation, raise questions about the factors that define these concepts, and break up centers of power.
In the series 'Vision and Failure', Alfred Gallery seeks to examine the possible opportunities inherent in failure: experimentalism, fragility, weakness, indecision, confusion. Alfred Gallery seeks to direct the spotlight to daring and risk taking activities inherent in the word failure. This is in order to present additional nuances in the experience of art making and the observing experience.